As we are entering into the era of 5G, people can start enjoying much higher mobile data rates and faster video download speed at home, lower latency and lag in gaming applications, and more Internet-of-Things (IoT) connectivity surrounding us than ever before. These benefits are actually addressing the three main 5G use cases, which are Enhance Mobile Broadband (eMBB), Ultra Reliable Low Latency Communication (URLLC), and Massive Machine Type Connectivity (mMTC). Not sure if anyone noticed, these 5G use cases mostly happen indoors. According to ABI Research, "more than 80% of data traffic originating or terminating indoors" [1]. Therefore, it is crucial to ensure optimal configuration for in-building network connectivity in order to serve each 5G use case at its best. 
Role of DAS in 5G IBS 
Distributed Antenna System (DAS) is the major indoor network solution. The traditional passive DAS works well with legacy (2G to 4G) systems but lacks scalability for 5G in-building systems when deployed with passive components. The network performance will also be degraded due to Passive Intermodulation (PIM) when multiple operators are carried together with numerous technology bands especially in medium to large venue In-building System (IBS) DAS solutions. To address the pain points of traditional passive DAS, an active solution comprising of active headend unit and radio antenna unit with fiber transmission should be considered for 5G indoor deployment. The active DAS solution could provide many benefits such as consistent coverage performance, capacity flexibility, end-to-end monitoring capability and so on. However, it requires an RF signal source from Base Transceiver Station (BTS) or Remote Radio Unit (RRU) to enable 5G connectivity for the indoor solutions under the traditional Radio Access Network (RAN) architecture. 
Open up the RAN Indoors 
By opening up the fronthaul interface of RAN, we can just bypass all the RRU and connect the indoor active DAS infrastructure directly to the virtualized Baseband Unit (vBBU) via a fronthaul gateway which supporting Option 7-2 split defined in O-RAN specification. As a result, the RRU hardware quantities can be reduced greatly and so do the onsite equipment footprints, and hence the equipment space and site rental cost compared with traditional RAN deployment. Moreover, the power energy consumption will be much lower after getting rid of multiple high power RRU for Open RAN indoor rollout.
 In view of vBBU, since it is a cloud-native architecture based on common Commercial Off-the-Shelf (COTS) hardware, it can provide flexible and scalable deployment of RAN functions, as well as service upgrades via software changes in the ease of maintenance. Therefore, we shall achieve another saving here with Open RAN deployed indoors. To get some idea on how Open RAN could contribute to Total Cost of Ownership (TCO) optimization, we have roughly analysed on a medium IBS venue and considered all possible aspects in Capital Expenditure (CAPEX) and Operational Expenditure (OPEX) for a comparison study. Below shows how active DAS solutions work in traditional and Open RAN architecture, with a chart shows the cost savings by adopting Open RAN IBS.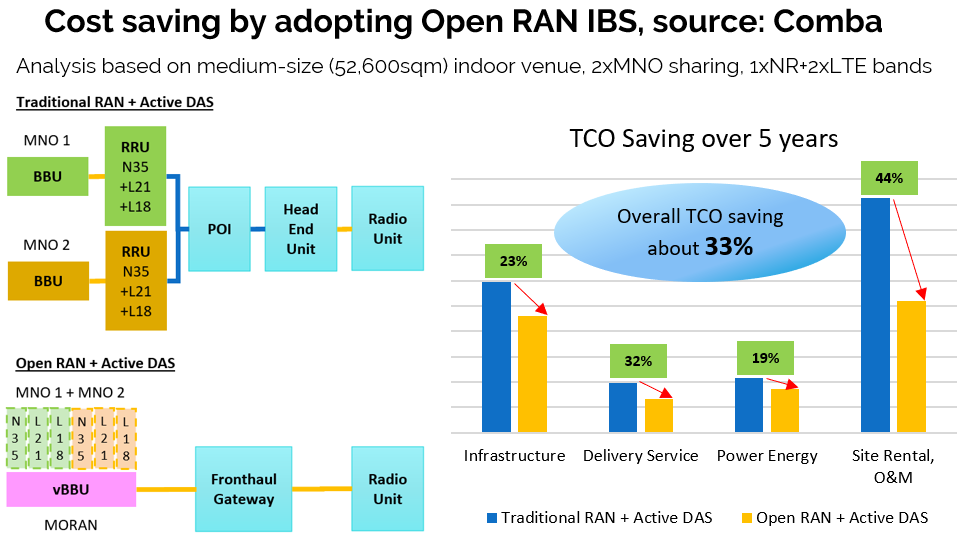 Basically, each of these categories shown in the above chart is able to achieve the respective savings with Open RAN, while Site Rental with Operations & Maintenance could show up the most significant cost reduction to contribute to TCO optimization. 
In a nutshell, Open RAN is definitely considered as a viable option to enhance indoor connectivity in a more cost-effective manner. Following the Open RAN deployment progress around the globe, we ponder that Open RAN solutions for in-building rollout particularly for 5G will start later but move faster in the near future. 
To know more about 5G Indoor Open RAN, feel free to download our White Paper: Expanding 5G Indoor Connectivity with Open RAN.
---
Source: [1] "ABI Research Anticipates In-Building Mobile Data Traffic to Grow by More Than 600% by 2020", ABI Research, 11 Jan 2016, https://www.abiresearch.com/press/abi-research-anticipates-building-mobile-data-traf/