The key enabler of Open RAN vision of multi-vendor interoperability is the open fronthaul interface. Currently, in the Open RAN ecosystem, the O-RAN alliance's open fronthaul interface specification is the de facto standard in the industry. It adopts RAN function split 7-2 and the eCPRI standard between DU and RRU which comes with a number of benefits. One of them is the bandwidth saving in the fronthaul interface comparing to the traditional split 8.
In the split 7-2, some of the physical layers (layer 1) of the RAN function are allocated in the RRU including FFT in the uplink and iFFT in the downlink direction. 

Chart 1: RAN functional splitting
With these two functions in the RRU, the DU sending and receiving radio signal as a frequency domain IQ symbol instead of the time domain IQ sample in the fronthaul interface, when applying to a typical sub-6 100MHz 5G NR carrier, 8 MIMO layers in an 8T8R RRU. This can be indicated by a simplified calculation and comparing the two types of IQ data and payload data only in the fronthaul interface.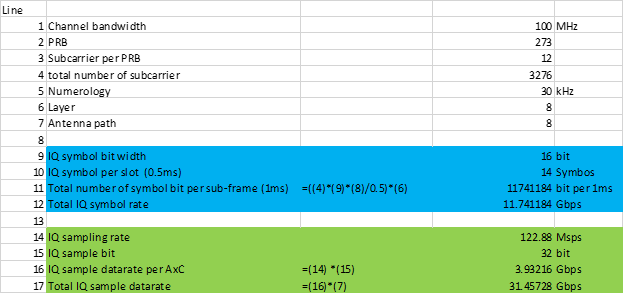 The above calculation shows that the sending of IQ symbol in option 7-2 instead of the IQ sample in option 8 in the fronthaul interface can save about 65% of the data rate.
 In short, utilizing the split 7-2 option, fronthaul can realize bandwidth saving. This is amplified further since in massive MIMO AAU scenarios, the IQ sample data rate responds proportionally to the number of Antenna paths while IQ symbol will only depend on the MIMO layer.