Comba Telecom is a global leading solutions and services provider of wireless and information communications systems with its own R&D facilities, manufacturing base, and sales and service teams. The Company offers a comprehensive suite of products and services including wireless access, wireless enhancement, antenna and subsystems and wireless transmission to its global customers.
Established in 1997 and listed on the Hong Kong Stock Exchange in 2003, Comba researches and develops wireless technology through its R&D centers in China and USA.  Its manufacturing base in China features advanced testing equipment and one of the largest microwave anechoic testing chambers in the region to ensure quality in its products.
Mission
Be a leader in innovation & development for wireless and information communications systems.  Strive to supply customers with superior total wireless solutions and services.
---
Brand Values
Professionalism, Integrity, Innovative, Reliability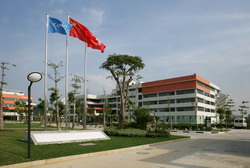 ---
Product Portfolio
Comba' s product portfolio includes wireless enhancement, antennas and subsystems, wireless transmission, wireless broadband and wireless access equipment. Comba's services range includes consultation, network design, optimization and commissioning.  Together, this enables Comba to supply its customers with end-to-end wireless solutions that have been deployed all over the globe including shopping malls, airports, sports stadiums, government buildings and telecom operator headquarters.
In addition to its core business of supplying operators and industries with ubiquitous, high capacity wireless networks, Comba is constantly reinventing itself and bringing new value-added solutions for the smart city and IoT era amongst others.
---
Global Presence
With corporate headquarters in Hong Kong, Comba has  30+ offices in China and 10+ offices in Asia Pacific, North and South America, and  Europe, Middle East. Through its direct offices and distribution network, customers are assured of rapid support at all times.