Comba Telecom Systems Holdings Limited ("Comba" or the "Group", stock code: 2342), the leading provider of wireless solutions for the 2G and 3G mobile telecoms market participated in the CTIA Wireless 2006 event in Las Vegas, USA between 5-7 April. Together with announcement of its official launch of full function office with sales, technical support and research & development facilities in Santa Clara, California, Comba brought its solutions to North American wireless carriers.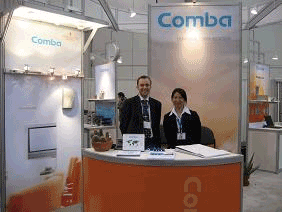 Comba displayed its full products for 1-stop out-door, in-door and microwave solutions on the exhibition. As a new comer of the North American Market, the booth attracted good attention and the company received product enquiries every day. Besides the existing products, Comba introduced its new multi-carrier power amplifier (MCPA) which has the highest power density of its kind. Visitors show great interest in such a "compact" MCPA that could increase efficiencies in setting up and maintaining their base stations.
CTIA is a great opportunity for the US market to be acknowledged about Comba and vice versa. Under the global expansion strategy, Comba is intended to be actively involved in one of the largest market in the world. The company has registered a booth again for CTIA 2007
which will be held in Florida next year.