In December, the Senior Management Team of Comba Telecom System Holdings Limited ("the Company"), Chairman Mr. Tony TL Fok, President Mr. Zhang Yue Jun, CFO Mr. Ken Chang and Special Assistant to the President Mr. Wu Jiang Cheng visited the Laos People's Democratic Republic ("the Laos") and met with Mr. Thansamay Kommasith, the Lao Minister of Posts and Telecommunications.
Previously, the Company has announced in September 2016 that it would acquire from the Lao Government a 51% interest in ETL Public Company ("ETL"), a telecom operator. The purpose of the visit was to deepen the understanding in the relevant policies and guidance from the Lao government, discuss the development plan of ETL, and to set up the new core management team of ETL.
During the meeting, Mr. Thansamay Kommasith thought highly of the Company's investment in the ETL project and delivered keen expectations on the future development. He also introduced the latest development and blueprint of the telecommunication industry in the Laos. Mr. Fok introduced the business and product strengths of the Company, and indicated that the Company would apply its advanced networking technology to invest and promote the advancement of ETL's network, bring benefits to the Lao people by providing high-quality, content-rich and cost-effective telecom services and achieve a win-win situation to the end. In addition, Mr. Zhang Yue Jun shared how the Investment, building and optimization of ETL network can enhance business models as well. Mr. Thansamay Kommasith and the Company also discussed and exchanged ideas on the specific projects and government needs in the meeting. The meeting lasted over two hours and was concluded successfully with gifts exchange as a pre-lead to the success of cooperation.
After the meeting, the Senior Management Team visited the headquarters of ETL, met and greeted its management. They also visited the main departments and server rooms which enhanced their understanding of ETL operations, built good relationships with the new management and laid foundations for the co-working in the future.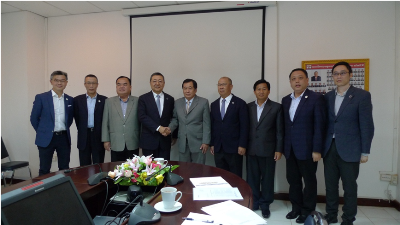 Senior Management Team of Comba Telecom takes group photo with Mr. Thansamay Kommasith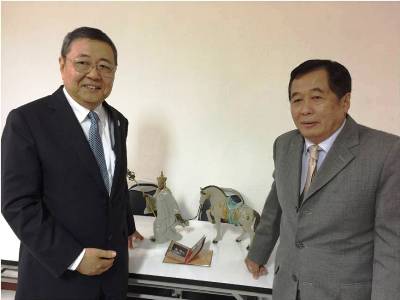 Mr. Tony Fok TL exchanges souvenirs with Mr. Thansamay Kommasith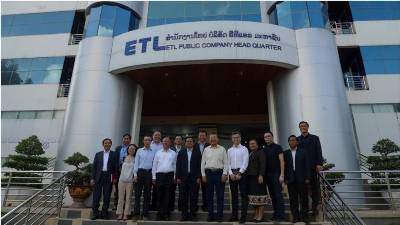 Group photo of new and existing management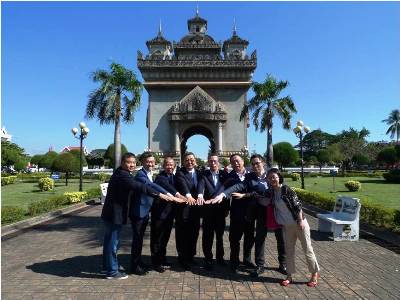 Senior Management Team of Comba Telecom takes group photo (Vientiane Arch of Triumph)